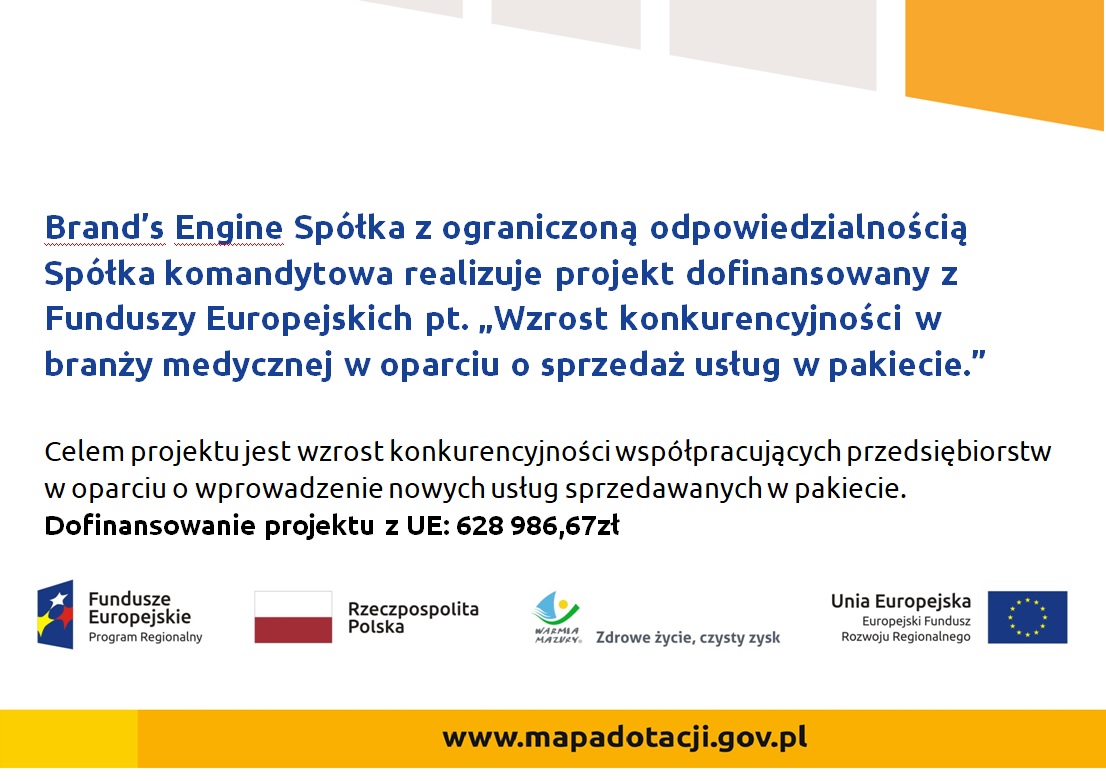 Brand's Engine Ltd. has been running a project with the support from European Funds: 'Competitiveness growth in medical field on the basis of product bundling'.
The project is aimed at increasing the competitiveness of cooperative entrepreneurs based on the introduction of new product packages.
EU subsidy value: 628 986,67 PLN.
We encourage you to take advantage of our special packages:
1FESS laryngological package, price: from 5000 PLN
1. Preoperative assessment
2. Preoperative anesthesia evaluation
3. Functional endoscopic sinus surgery (FESS)
4. Inpatient hospital stay
5. 24/7 doctor's care
6. 24/7 nursing care
7. Full board
8. Follow-up consultation
2Orthopaedic package - knee joint arthroscopy, price: 4500 PLN
1. Preoperative assessment
2. Preoperative anesthesia evaluation
3. Knee joint arthroscopy Diagnostic arthroscopy, knee joint treatment (partial meniscectomy, cartilage repair, synovial plica removal,osteophytes resection) 4. Inpatient hospital stay
5. 24/7 doctor's care
6. 24/7 nursing care
7. "LIDER" premium board
8. Follow-up consultation
3Orthopaedic package – shoulder joint arthroscopy,price: from 5500 PLN
1. Preoperative assessment
2. Preoperative anesthesia evaluation
3. Shoulder joint arthroscopy, diagnostic and therapeutic shoulder joint arthroscopy (debridement, biceps tenotomy, acromioplasty ,acromioclavicular joint)
4. Inpatient hospital stay
5. 24/7 doctor's care
6. 24/7 nursing care
7. Full board
8. Follow-up consultation
Aesthetic medicine package:
1Laser treatment – endoscopic facelift - 2500 PLN
1. Pretreatment assessment -"LIDER"
2. Laser endoscopic facelift
3. Preventive ultrasound screening - USG (breast, thyroid or abdomen at choice)
4. Dietary consultation
2One body part hair removal (armpits, bikini line, calves, thighs, chest, abdomen) – 280 PLN
1. Consultation"
2. Laser one body part hair removal (armpits, bikini line, calves, thighs, chest,abdomen) - "LIDER""
3. Nutrition guidelines
3One body part hair removal (upper lip, chin, sideburns) – 100 PLN
1. Consultation"
2. Laser treatment - one body part hair removal (armpits, bikini line, calves, thighs, chest, abdomen) - "LIDER""
3. Nutrition guidelines
4Laser treatment - firming and stretch marks removal (one area) - 700 PLN
1. Pretreatment assessment"
2. Laser treatment - firming and stretch marks removal (one area at choice: abdomen, thighs, breasts, buttocks, shoulders)"
3. Preventive diagnostic ultrasound screening – USG (breasts, thyroid or abdomen at choice)"
4. Dietary consultation